What my blog has in store for you each month, you can read here:
1. In This Blog We Deepen our Knowledge of Crew Resource Management
Here, I publish articles for you every month. Please find the links to each of them under the contact form.
In these articles, we deal with crew resource management. Not only do we take a closer look at CRM concepts already familiar to you, but I will also show you how to integrate, for example, checklists, decision-making, and a speak up into your daily routine easily.
One of the central topics in crew resource management are the human factors, which, for instance, can compromise your teamwork, or your situational awareness. I will reveal for you, how you can deal with them together with your team.
2. A Blog for Continuous Development
Other topics in this blog can be lifelong learning and our professional development.
What springs to our minds first, when we imagine a training course? New knowledge or skills? What is more, could we possibly see some aspects from a different point of view? Could we develop new attitudes?
In this blog, we will address, how to transfer this new knowledge and newly acquired skills, as well as our attitudes from a seminar into our teamwork.
Countless interactions with our team and shared tasks offer us the opportunity for this every day.
3. Optimal Teamwork Especially Under Pressure
It should be our goal to internalise CRM principles in a way that we can apply them especially under pressure in order to avoid that mistakes have serious consequences.
The crew of an A 380 exerted excellent teamwork when it was confronted with a substantial damage to one engine. Captain de Crespigny captured the very idea of crew resource management in a nutshell when he said: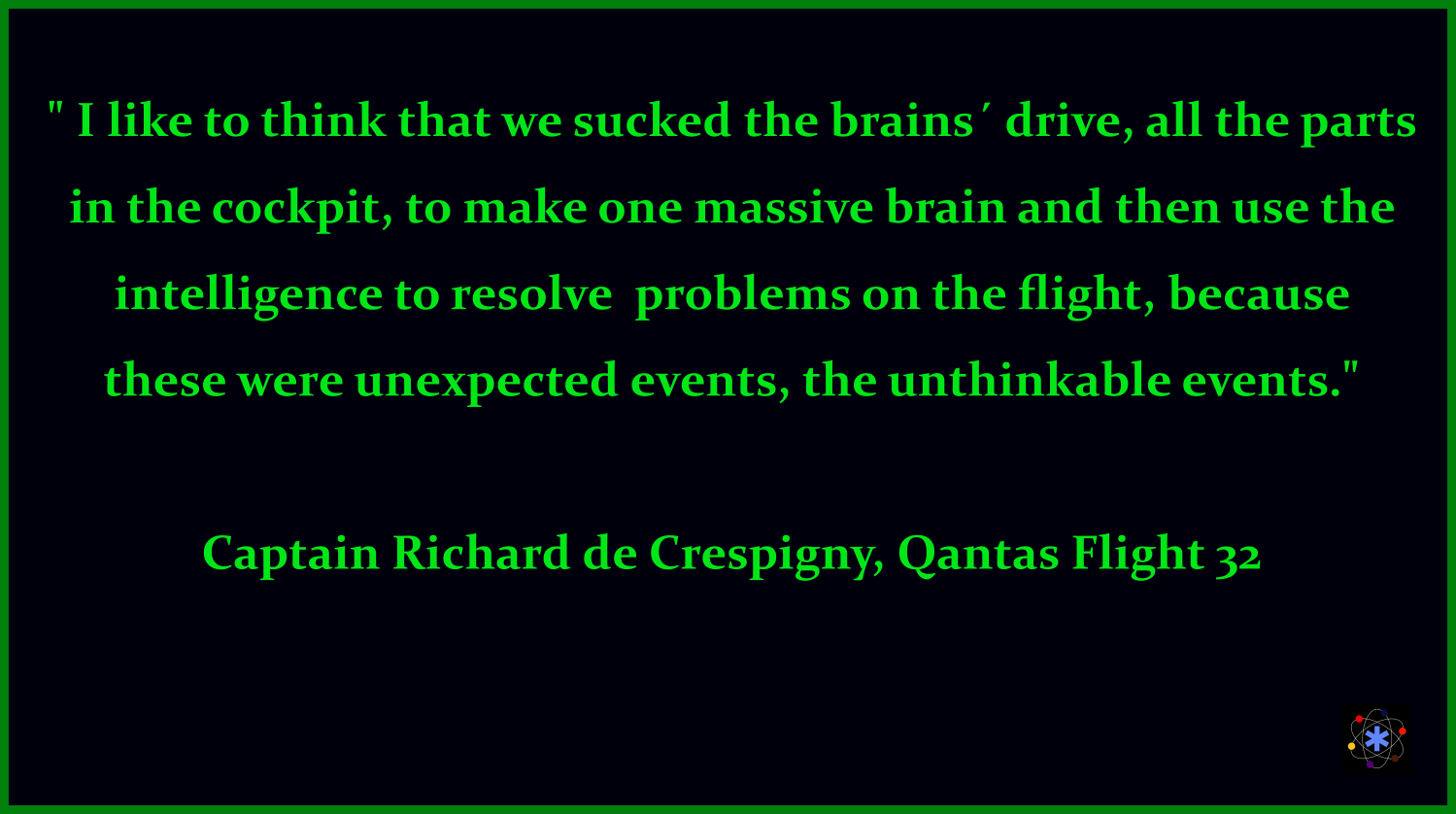 4. In What CRM Topics Are You Interested?
Are you particularly interested in a certain CRM concept? Would you like to know more about it? Please let me know. I will be happy to seize your suggestion.
5. These Links Lead You Directly to the Blog Articles
Behaviours Within Teams Influence Safety of November 30th, 2023
CIRS Cases: Thallium(I) Acetate and Automated ECG Analysis of October 30th, 2023
CIRS for Incidents and Errors in Medicine of September 29th, 2023
Boeing 737 MAX 8: The Concealment of New MCAS Features of August 31st, 2023
AF 447 - Causes, CRM, Consequences of July 9th, 2023
Expertise in Times of Automation of June 28th, 2023
Three Important Aspects of ADM of May 24th, 2023
How to Control Risks as Pilots Do of April 25th, 2023
No Risk, No Fun - Not When Using CRM of March 31st, 2023
Standard Operating Procedures, SOPs of February 27th, 2023
How to Use Checklists Optimally as of January 28th, 2023
Author of all blog articles listed above: Eva-Maria Schottdorf. Memberships:
Nonfiction Authors Association, NFAA
Alliance of Independent Authors, ALLi
Independent Book Publishers Association, IBPA