About good safety culture, its necessity, and its components you can read here:
1. Mistakes and Safety Margins
1.1. Human Factors Constantly Threaten Our Work
The human factors inevitably influence all of our work, no matter how hard we try to avoid them. We all know what a lack of time and resources feels like. There might also be a lack of appropriate equipment, or training. Showing assertiveness and speaking up is not always easy either.
Consequently, we all make mistakes, mostly involuntarily, regardless of our rank in the company. We have already examined how to deal with them using threats and errors . In addition, we have taken a look at Just Culture in order to learn how to create a culture in which we can report errors and risks without fear of unfair punishment.
1.2. What Happens if Safety Margins are Being Pushed?
What are Safety Margins?
We establish safety margins by employing crew resource management principles wisely. For example, we use checklists, we crosscheck with colleagues, and we use certain communication techniques to enhance the safety of our work.
The purpose of safety margins is to allow for errors to be detected and corrected before they do any harm.
Why are Safety Margins Likely to be Pushed?
We all know that there are time pressure and the need to work cost-effectively at almost any workplace. Thus, cutting corners might be all to tempting, even in high-risk work environments, such as aviation, or healthcare.
Possible Consequences of Pushing the Safety Margins
An Example from Aviation
During the maintanance work on the aircraft N233YV, a Raytheon (Beechcraft) 1900D, which was used on Air Midwest Flight 5481 from Charlotte-Douglas International Airport, North Carolina, to Greenville-Spartanburg International Airport, Greer, South Carolina, USA, on January 8th 2003, several crucial steps had been left out.
Following that, the elevator (used to lift or lower the nose of the plane) could not be operated at its full range of movement, which contributed to the crash that happened on that flight.
An Example from the Emergency Medical Service
Imagine an ambulance crew which starts a night shift and does not check all the equipment according to the standard operating procedures and checklists. During a call, a patient needs to be intubated, and the light of the laryngoscope, an instrument which is needed to look at the vocal chords and to insert the tube into the trachea, is weak and suddenly goes out.
Now, hectic searching for spare equipment ensues, putting the patient at a serious risk as the procedure of securing his or her airway is delayed.
Possible Consequences
Leaving out steps in the maintenance of an airliner, or not checking ambulance equipment properly before a shift are only two examples of pushing the boundaries and, therefore, reducing the safety margins.
This might work a few times, encouraging some professionals to push the boundaries even further over time. However, in the end, a potentially fatal disaster is likely happen.
The mistakes, which we all make from time to time and the habit of not respecting safety margins both illustrate the need to establish a healthy safety culture.
Like an umbrella, this spans all our efforts to minimise the risk of mistakes and to enhance the safety of our work.
2. Safety Culture is Superordinated to All Efforts to Enhance Safety
2.1. Definition
The term "culture" expresses that this is no single concept which is learned during a shortterm training course. Rather, safety culture consists of beliefs, behaviours, and attitudes towards safety.
In addition, the willingness to report and learn from mistakes, as well as flexibility play a role, as we will discover below. Of course, the values and customs of the respective nation and the standards in the line of business influence the safety culture we create or maintain at our respective workplaces.
2.2. Who is Part of Our Safety Culture?
The CEO of any company or business should act as a good example and is responsible for the implementation and maintenance of a healthy safety culture across the entire company or business. All seniors play a decisive role in supervising, teaching and informing all employees.
Last but not least, all employees, who carry out work which envolves any risk should be encouraged, to develop and maintain a safety culture awareness. This means that they should actively report mistakes and safety risks, amongst others.
2.3. Safety Culture Cannot be Replaced
Superordinating our safety culture means that it cannot be replaced by existing human factor training, CRM prinicples and their use, or maintenance resource management, MRM. It is the umbrella under which we carry out anything with respect to enhancing the safety of our business.
A safety management system, which encompasses all necessary procedures, organisational structures and responsibilities, as well as a reporting system, should be in place.
3. The Components of a Safety Culture
Several different components make up the safety culture of an organisation. First, we will elucidate which ones James Reason considered crucial. Then, we will examine the influence which, for example, responsibility, leadership, and attitude have.
3.1. The Postulate of James Reason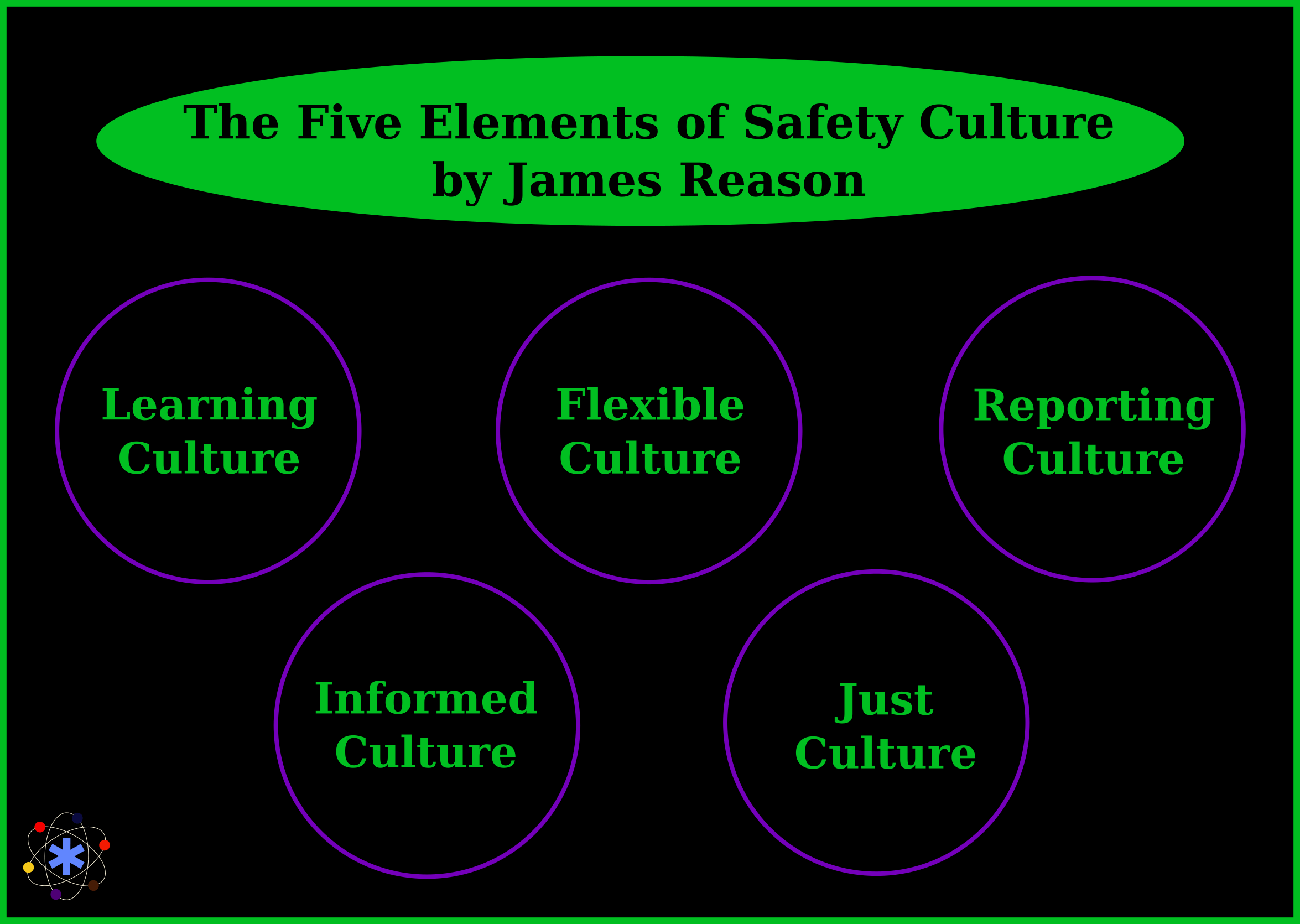 As we can see in the illustration above, James Reason has denominated five elements, which together create a safety culture. Let's take a closer look at how they are defined.
Learning Culture
A company or organisation must be willing to learn from the errors it detects using its reporting system and make the necessary changes. Moreover, each employee needs to understand the safety management system, its processes and continous improvement.
Informed Culture
Everyone involved in implementing and maintaining a safety culture and acting according to it, knows the principles, attitudes, expected behaviours, and procedures. Data about safety is continously gathered and assessed, any information about safety is distributed to everyone concerned in a timely manner.
Flexible Culture
The workforce within a company or an organisation is capable of adapting to changing demands or reacting to threats. Sometimes, in this process hierachies are flattened.
Just Culture
The entire workforce reports mistakes and is not punished if a mistake has not been made intentionally. However, if there was gross neglect involved, sanctions, on which the organisation or company has agreed, will be applied, including the loss of a professional license in accordance with existing guidelines.
Reporting Culture
Employees are encouraged to report mistakes or any safety concerns. The team, or whoever is in charge, then explores the root cause of the mistakes or hazards to safety and works out how to prevent future errors, or how to mitigate the hazards.
3.2. The Following Add to the Five Elements
Leadership
Every superior needs to exert leadership and be a good example of how to behave with a true safety culture awareness.
This means not pushing safety margins, admitting and correcting own errors, as well as not letting the mistakes of others, a lack of safety culture awareness, or risks go unnoticed.
True leaders show the courage to address these errors and risks and hearten their employees to make amendments.
Responsibility
Leaders, but also all employees are responsible to personally understand the safety management system and the reporting system the company has established.
Attitude and Commitment
Everyone in a company or an organisation who carries out tasks which entail risks, needs to understand what professional attitude is required. Furthermore, the more these employees commit themselves to actively contribute to the safety culture, the better this culture can be, ensuring safe operations.
Communication and Trust
Every company has its own procedures, how errors and risks are communicated. There should be an atmosphere in which employees can trust their employers that no unjust punishment awaits them if they have made an unintentional error and report it. Communication and trust pertain especially to just culture and reporting culture.
Training
Continuous training courses are provided by many organisations in healthcare, and all companies and organisations involved in aviation. These regular courses deal with human factors, crew resource management, or maintenance resource management.
Moreover, at least new employees need to learn about the safety management system, the overall safety culture of a company and how to report errors and risks.
4. The Recognition of Safety Culture is not the Same Around the World
Hierarchy and the safety culture described in this blog article are interrelated. In countries with a strict hierarchy, for instance, in Taiwan, Japan, and Russia, ideas like a speak up are less common. Thus, certain components of a modern safety culture may not be appreciated as much as they are in a country with a flat hierarchy, such the USA, Scandinavia, or Ireland.
What if safety culture is not valued and someone, who is reporting a mistake, is simply dismissed due to "gross neglect" even if the mistake was made untintentionally? Unfortunately, this still happens around the world. What steps do you suggest to improve the situation? What can you do at your own workplace?
5. In My Next Blog Article You Can Read About:
It is the season and time to create some delicious baked goods. No matter, whether you work in the kitchen together with your family, close friends, or within a charity organisation, you will be surprised, how much about crew resource management you have already learned.
You can find more blog articles at the bottom of my blog page.
Author: Eva-Maria Schottdorf
Date: November 27th 2021